Become a Member!
Membership in Skagit Valley Genealogical Society is open to anyone interested in genealogical research. The purposes of SVGS are to stimulate a popular interest in family history, to seek genealogical and historical knowledge, to preserve and perpetuate the records of our ancestors, and to collect and publish genealogical source material of Skagit County and the Puget Sound Region to the North.
Annual Dues:
$20 US per year for an individual membership.
$25 US for a family.
 

(The NEW rates effective 1 January 2021)
Our fiscal year begins January 1, therefore dues are payable at the January meeting for the year to follow. Click HERE to bring up a mail in application for download to your computer. Be sure to completely fill out the membership application and include your name, telephone number, mailing address including full zip code, e-mail address, fax number, maiden name (if applicable), and note whether the membership is new or a renewal. Make membership checks payable to SVGS, and mail both the application and the check to:
SVGS Membership Chairman
PO Box 192
Burlington, Washington 98233-0192
Please include a S.A.S.E. if you want your receipt and membership card mailed.
---
Complete our online membership application and pay by mail or electronically with PayPal.
Click on the Welcome  image to Apply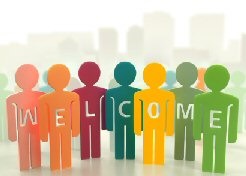 ---
Benefits of membership in SVGS.
 Membership includes a one year subscription to the society's publications — approximately five Newsletters.
Members can submit  queries regarding their research to be published in The Newsletter and on the SVGS web site.
Members can attend monthly membership meetings  with informative and entertaining speakers!
Members can access one of the best genealogical 

libraries

 (Burlington, Washington Public Library), North of Seattle.
Members can list a family 

reunion

 Free of charge.
Members can consult with other members during meetings and online to solve search brickwalls and deadends. .
Members have free access to the genealogical information offered on this web page.
Members can meet with

S.L.U.G.s (Skagit Legacy Users Group)

to learn about Legacy Family Tree Genealogy software.