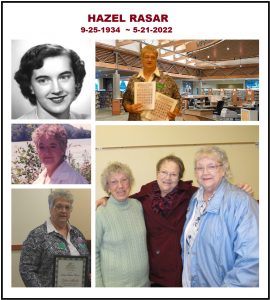 9/25/1934 ~*~ 5/20/2022
We lost our beloved Hazel.  Here is part of her obituary.
After high school Hazel went on to graduate from the St. Joseph's Hospital School of Nursing in Bellingham graduating in October of 1955. Having then moved to Skagit County she worked as a Registered Nurse at Northern State Hospital, the Community Hospital in Sedro Woolley, and was one of the first nurses to staff the brand new United General Hospital when it was built. She served in a variety of roles
during her 40+ year career in nursing as a floor nurse, nursing supervisor, surgery and emergency medicine finally retiring from Skagit Valley Hospital and Affiliated Health Services in 1996 having advanced into hospital administration.
Hazel's great hobby was genealogy. The family historian she compiled the history of her family and the Rasar family publishing numerous books about the family tree. She was an avid historian of the Skagit Valley participating in several books on the subject. She served in several roles for the Skagit County genealogical society over the years including being the president of that society for a number of years.
**********************************************************************************
Welcome to Skagit Valley Genealogy website.
"We are so thankful for your support and hope you find this webpage informative and helpful to your family history/genealogy search.  Any donation you might give would be very appreciated and used to continue improving SVGS.  We are a 501 (c) (3) nonprofit corporation.  Your monetary gifts are tax deductible, actively solicited, and most welcome.  Unless instructed otherwise, your contribution will be kept confidential."
---