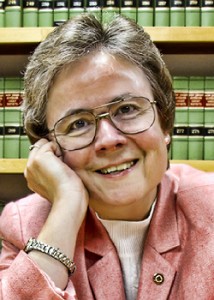 There is no higher caliber speaker than Judy Russell. She is a genealogist with a law degree. Judy's forte is records. She knows the ins and the outs of a record. Her lectures effectively slice and dice a document to ascertain everything that pertains to your ancestors past. Judy G. Russell will be presenting a three day series of lectures on Zoom.
You don't want to miss this one. Here is your chance to enjoy one of genealogy's premier speakers from the comfort of your home. All three classes for the cost will be $50.00 for members and $55.oo for non members.  For an individual class it will be  $20.00 per class. You will avoid cost overhead for travel, motels and meals.  Because the SVGS Zoom license only allows up to 100 participants you should register NOW.
Each class will be on a Thursday morning from 10:00 to 11:30 am.  The dates will be October 21th,  28th and November 4th.  Register and submit payment at least one week before each individual class date and by October 14th 18th (extended) if you plan to attend all three classes.
10-21-21  "That Scoundrel George"
10-28-21  "When Worlds Collide"
11-4-21 "No Vitals? No Problem! – Building a Family through                     Circumstantial Evidence" 
MAIL PAYMENT
Once you have completed the registration below you need to pay for the class.  You can click  HERE to download and print a short form for you to mail in with your check.  Send mail to:
Skagit Valley Genealogical Society
PO Box 192
Burlington, WA  98233-0192
PAYPAL
You can also use the PayPal link in the sidebar to pay with PayPal or with your credit card.  If you choose Credit Card under Payments, you must still go into the PayPal located to the right in the sidebar.  After  you select the number of classes you are taking, you can then look for Checkout as Guest and make your credit card payment.  If you are not familiar with paying with your credit card in PayPal, it is suggested that you read the PayPal Confused link in the sidebar giving instructions.
Note:  Select the  one class that is to be presented on November 4th, 2021.  A Zoom link and pass-code for the  class(es) you select will be emailed to you the day before class presentation.